Published: Tuesday, November 30, 2021 09:05 AM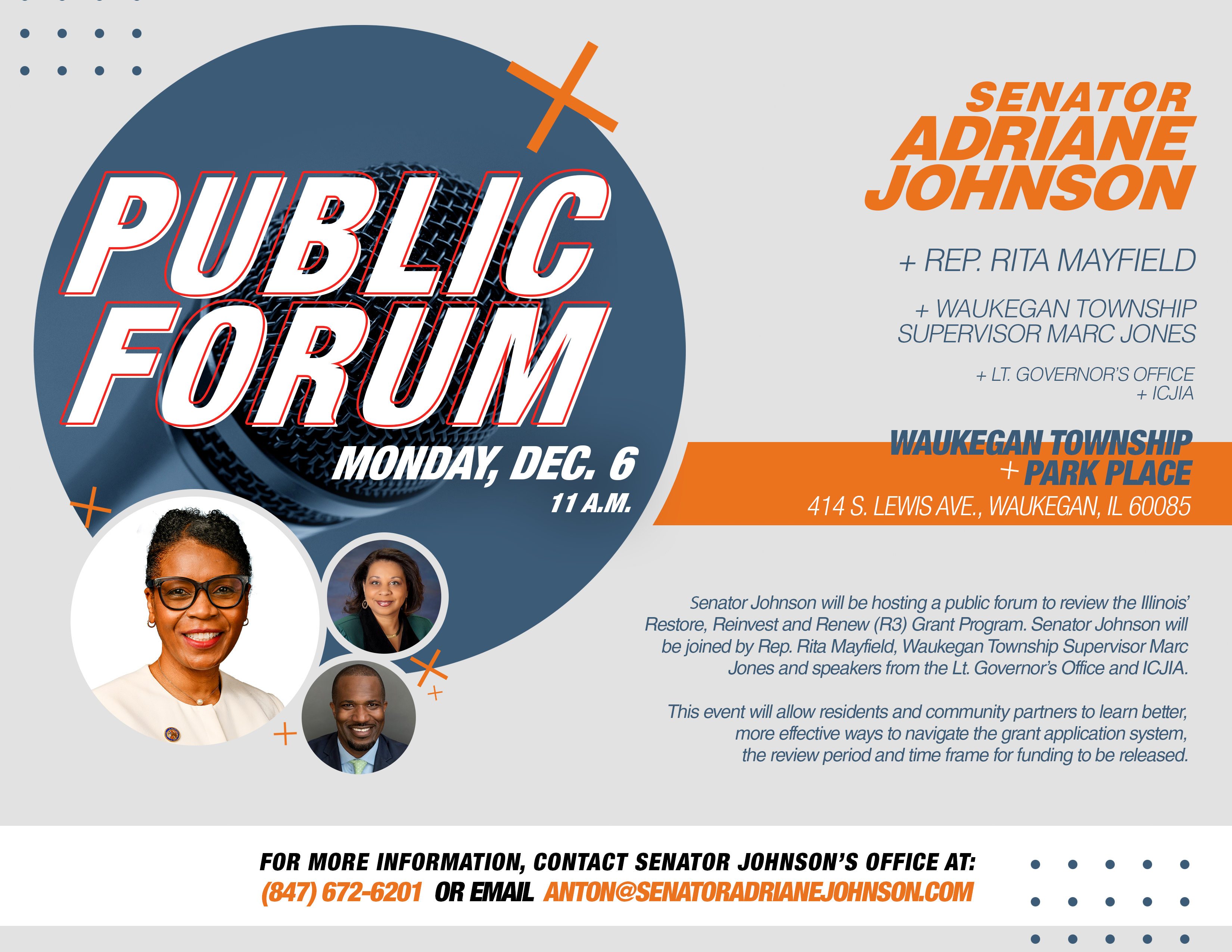 WAUKEGAN – To offer application assistance to interested residents, State Senator Adriane Johnson (D-Buffalo Grove) is partnering with State Rep. Rita Mayfield (D-Waukegan), Waukegan Township Supervisor Marc L. Jones, the Lt. Governor's office and ICJIA to host an informational meeting on the state's Restore, Reinvest and Renew (R3) Grant Program.
"The funds available through Illinois' R3 grant programs aim to support communities that have been harmed by violence, excessive incarceration and economic disinvestment," Johnson said. "By highlighting this program and making sure qualified organizations have the resources to apply, we are working to create stronger, more cohesive communities."
The event will be held at 11 a.m. on Dec. 6 at Waukegan Township Park Place, 414 S. Lewis Ave., Waukegan. Masks are required for participation.
Attendees will have the opportunity to discuss the technical changes in the R3 program, get information on the review period and timeframe for funding to be released.
The R3 grant program funds projects in disadvantaged communities in five main areas: civil legal aid, economic growth, reentry, violence prevention and youth development. Eligible communities were identified, in part, by their rates of firearm-related injuries, child poverty, unemployment and incarceration.
Organizations in highlighted areas on this map are eligible for funds through the R3 grant program.
Residents can RSVP by calling Johnson's district office at 847-672-6201 or by emailing This email address is being protected from spambots. You need JavaScript enabled to view it.. For more information on the grant program, visit the R3 website.
Category: Press Release