Published: Thursday, August 05, 2021 09:21 AM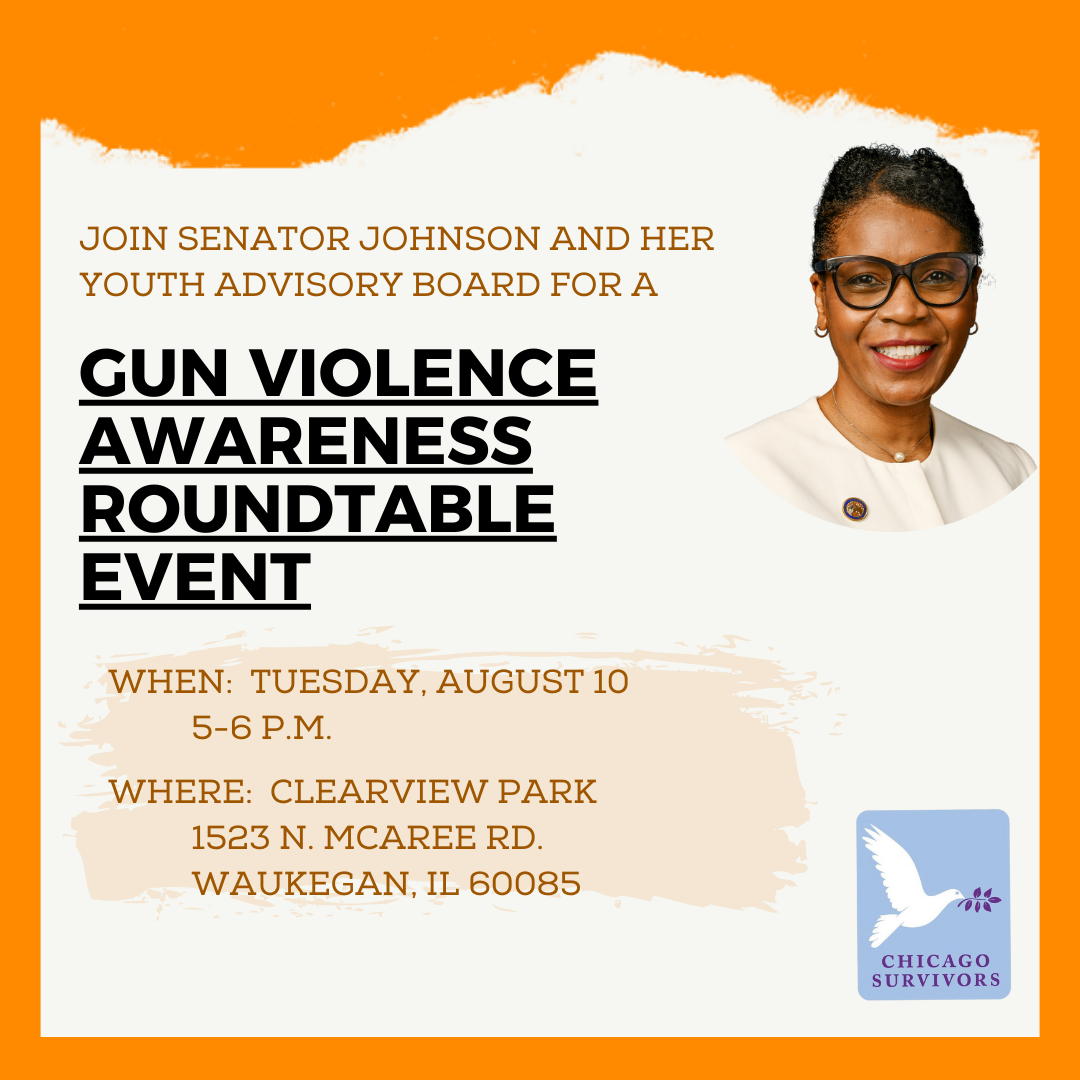 WAUKEGAN – Over 26,000 lives have been lost to gun violence in the U.S. so far in 2021, a shocking statistic that motivated State Senator Adriane Johnson (D-Buffalo Grove) and her Youth Leadership Advisory Panel to take action.
Together, Johnson and the student-run panel will host a Gun Violence Awareness Roundtable on Tuesday, Aug. 10 from 5 to 6 p.m. at the Jane Addams Center in Bowen Park, located at 95 Jack Benny Drive in Waukegan.
Clearview Park, located at 1523 N. McAree Road in Waukegan.
"This year is on pace to be America's deadliest year of gun violence in decades," Johnson said. "To put a stop to the tragedy, we have to come together as a community to find solutions and make change."
The roundtable will feature presentations from religious and community leaders, including Lake County Sheriff John Idleburg; Pastor Wade Stevenson with the Gideon Missionary Baptist Church in Waukegan; Oji Eggleston, executive director of Chicago Survivors; and Maria Pike, a Senior Fellow with the Everytown Survivor Network and volunteer with the Illinois chapter of Moms Demand Action, who also serves on the Chicago Survivors board of directors.
Johnson's Youth Leadership Advisory Panel will lead a discussion with featured speakers about the effects of gun violence on the Lake County community, followed by a Q&A.
At the end of the event, audience members will walk away with a better understanding of gun violence prevention resources and support networks to empower them to continue their advocacy and save lives.
This roundtable is the second event spearheaded by Johnson's 2021 Youth Leadership Advisory Panel, a student-run panel that works alongside Johnson's district office staff to help put together youth-centered community events and amplify young voices in the Lake County area.
"I am proud to be a member of the senator's Youth Leadership Advisory Panel because I can help to educate my peers on what they can do to promote gun violence prevention awareness," said Ellie Baden, a rising junior at Michigan State University and co-chair of the 2021 Youth Leadership Advisory Panel. "Together, we can work as a community to empower students to call for meaningful action."
Register for the event at www.SenatorAdrianeJohnson.com/GVRoundtable.
Category: Press Release