Published: Wednesday, March 03, 2021 04:32 PM
WAUKEGAN – To fight disinformation and help residents understand the impact of recent reforms to the Illinois criminal justice system, State Senator Adriane Johnson (D-Buffalo Grove) offered her take on the initiatives as a Black woman, mother and wife at an event in Waukegan on Wednesday.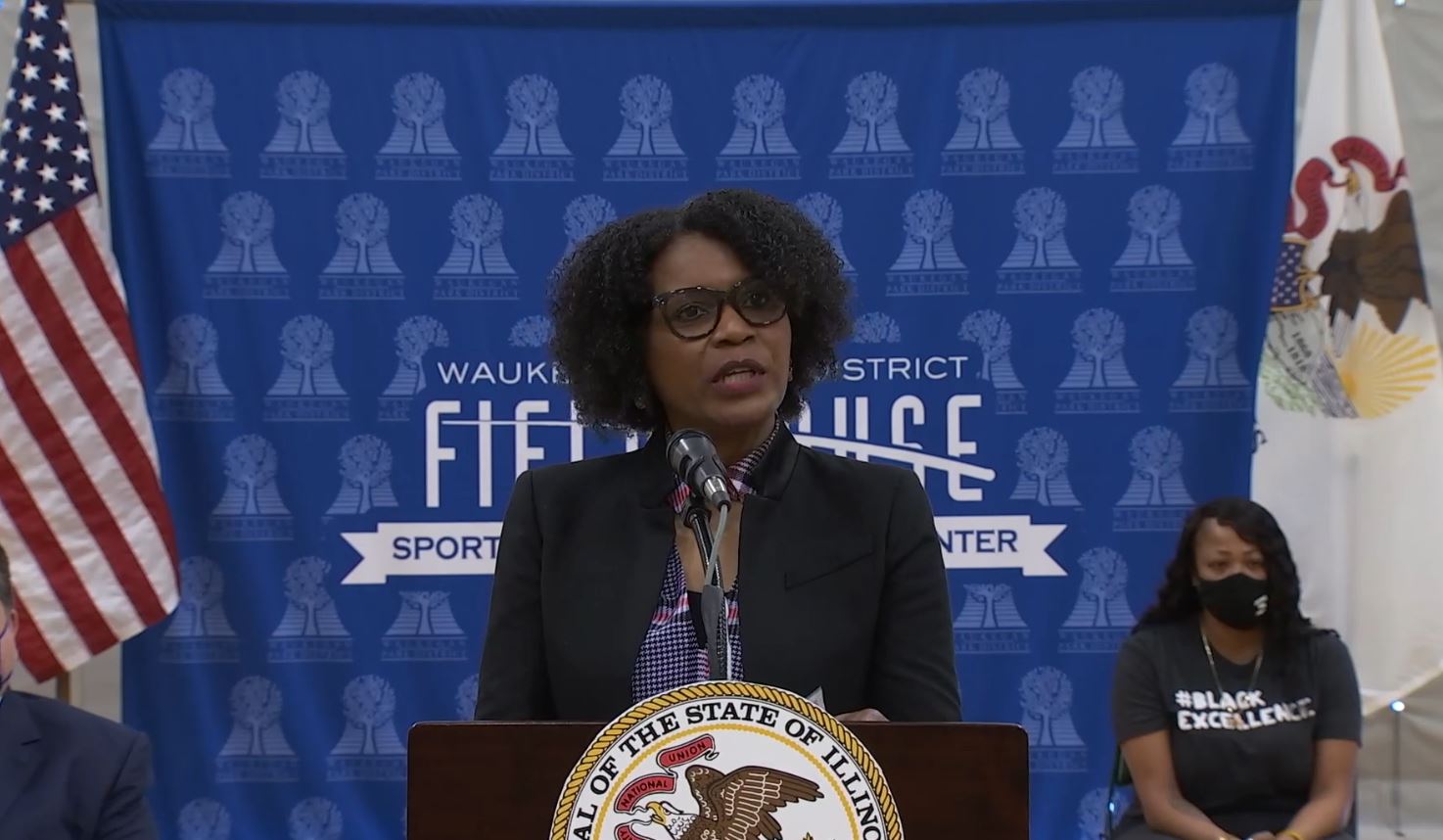 "As a mom, it is critically important for me that the power of my voice and vote are heard," Johnson said. "It is my hope that parents across Illinois can be at ease going forward, knowing that these reforms will help make our communities that have been left behind by the criminal justice system, safer."
Johnson joined Gov. JB Pritzker, Lt. Gov. Juliana Stratton, fellow lawmakers, community leaders and criminal justice reform advocates at the Waukegan Park District Field House to discuss the legislation and its potential to foster greater public safety and fairness in the community.
House Bill 3653 passed the Illinois General Assembly in January and was signed into law Feb. 22. The bill makes sweeping changes to how police are held accountable for the use of force, how courts impose bail and sentence convicts, and what rights all citizens, including detainees and prisoners, have with regard to their interactions with law enforcement officers.
The legislation was part of a four-pillar legislative agenda set forth by the Illinois Legislative Black Caucus to rid Illinois of systemic racism. It came about in the months following the tragic death of George Floyd and increased calls among citizens and activists for a comprehensive approach to reforming the criminal justice system.
In all, the Illinois General Assembly convened nine public hearings and heard over 30 hours of testimony from law enforcement professionals, trial lawyers, prosecutors, community members and many other groups in crafting the legislation.
In her remarks, Johnson recalled an experience with Zharvellis Holmes, the mother of Marcellis Stinnette, a 19-year-old fatally shot by police in Waukegan in October 2020. Johnson reached out to Holmes following her son's funeral to ask what she could do to help.
"She said, 'Senator Johnson, I want you to be the voice for Marcellis in Springfield,'" Johnson said. "We heard your voice, Marcellis."
Stinnette and his girlfriend, who were unarmed, were both shot during a traffic stop, and Stinnette later died from his injuries. The shooting sparked outrage as it came amid nationwide protests calling for an end to police brutality and racial justice.